The 4 days tour from Agadir to Merzouga is one of the most popular travel packages departure from Agadir. This pricvate tour is well adapted for short and medium stay in Morocco.
Based on feedback from our valued clients, we have crafted exclusive tours departing from Agadir that cater to your specific interests. No trip to Morocco is complete without a visit to the Sahara Desert, which is why we have thoughtfully included desert merzouga in all our itineraries. Some of our tours even ventured out to the Zagora desert for a unique experience. We also offer customized Agadir tours catering to your cultural, economic, and touristic preferences.
Desert tour from Agadir – 4 days trip to Merzouga info
DEPARTURE : Agadir
ARRIVAL : Agadir
Departure time : 8 am
DURATION : 4 days \ 3nights
Highlights:
Erg Chebbi Sahara
Desert sand dunes
Camping at Berber tents
Ouarzazate
Todgha gorges
Berber Kasbah
High Atlas Mountains
Agdez
Desert tour from Agadir – 4 days trip to Merzouga program
Our 4 days desert tour from Agadir allows you to see the finest of Morocco desert and city excursions. We will visit Taroudant , the Kasbah Ait Benhaddou, and film city of Ouarzazate, all of which're fascinating and historically significant.
The coming days will provide an amazing opportunity to discover the Sahara Desert Merzouga, one of the country's most MagicNet locations. There, you may participate in a variety of fun activities including camel ride quad biking, traditional night at desert camp, and more.
You will return to Agadir after the excursion, travelling via several interesting areas such as rissani, the Draa valley and small town of Agdez.
Day 1: Agadir to Ouarzazate
We will travel to Ouarzazate on the first day of our 4-day desert tour itinerary from Agadir. In the sous valley, we will travel through numerous fascinating Berber communities. We will get the opportunity to explore Taroudant, little Marrakech by locals. The Saadian dynasty
built the town as military outpost to counter the Portuguese invasion. You will also explore its old medina before continuing to Taliouine and Taznakht.
The kasbah castle of Ait Benhaddou will be our next visit. Later is Morocco's largest kasbah and UNESCO world heritage site. After that, we will drive to Ouarzazate movie city. It is well known for its Atlas Studios, which makes it a fantastic site for filming. Many films like gladiator and game of thrones … and television productions of the day.
---
Day 2: Ouarzazate to the desert Merzouga
After breakfast, we will begin our 4 days desert trip from Agadir to Sahara Desert Merzouga. Before then we will go via Skoura and rose valley oasis areas before arriving at Todgha gorges. We will stop there for lunch and to take in the in canyons breathtaking walls. Following that, we will pass on village Touroug , Erfoud and Merzouga. Your camels will be waiting for you when you get to sahara desert Merzouga. You will ride them across erg Chebbi sand dunes to a native Berber tent for the night. As you relax and enjoy your time under beautiful stars sky, locals will entertain you with berber music around the campfire.
---
DAY 3: Sahara Desert Merzouga to Agdez.
Early the morning You will have an chance to watch a beautiful sunrise from the top of the sand dunes on this day of your 4-day desert tour from Agadir. Following that, you will have breakfast before we go to the small town Rissani. We will go through a typical market in this city that becomes packed on Souk days. There are traditional items for sale. Then we will continue our road trip across the Draa valley, passing via Alnif, Tazarrine, and Nkoub. On your trip to Agdez, you will have the option of driving off road over the historic caravan route ancient kasbahs.
---
Day 4: Agdez to Agadir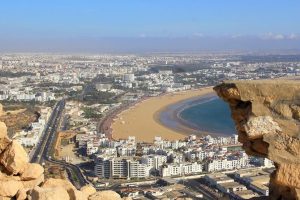 On last day of your desert private tour from Agadir, we will drive from Agdez to Taznakht, a town famous for its Berber gelims and carpets. On the way. We travel through wonderful landscapes and the Bouazzer mines. This is a more isolated and off the beaten path region of the country. Later, we will go west to Agadir over Tizi n Ikhsane and Tizi n taghatine passes. We stop for lunch at Taliouine , Morocco's saffron growing Regine, where there is an amazing modest museum dedicated to the art of saffron farming. The path returns us to Taroudant in the afternoon, where we follow the often-dry Souss river and invulnerable Argane trees on all the mountain slopes and back to Agadir, where we arrive at the end of afternoon, we drop you off at your Riad/Hotel or airport.
The end of our services for the 4 days trip from Agadir to Merzouga desert.
---
What's included ?
Pickup and drop off serves
English \ Spanish speaking driver
Accommodations
4WD vehicle with fuel
Camel for each in the desert
Private bathroom in your tent (hot shower & toilet)
Breakfasts and dinners during your tour (Vegetarians are accommodated).
Camel trekking with sunset and
Sunrise Free time to explore sites as per itinerary
Turban for each in the desert
Sandboarding in the desert camp
What's not included ?
Plane ticket
 Monuments fees  Lunches
 Tips
 Drinks
NOTE: If this 4 Days desert tour departure from Agadir does not match what you're looking for, Contact us We provide customized trips and the best services in Morocco according to your duration of stay and your preferences. You could come with your family, relatives, friends or all of them. Just let us know your duration, what you wish to do in the state and we'll plan the itinerary according to your interests .